When you are looking to pick up a Mother's Day gift, it only makes sense that you should also be respectful when doing so to Mother Nature as well.
The task of picking up something that both Mom will love and Mother Nature will approve of can be a bit of a challenge.  The good news is that with a bit of guidance and insight, you can likely find even the most traditional of Mother's Day gifts that are also sensitive to the needs of Mother Nature.
To help out, here is a list of Mother's Day gift ideas that will keep both happy:
FLOWERS:  The quintessential Mother's Day gift.  Flowers come in many types, colours and from many different destinations, with not all choices being as eco-friendly as others.  A good rule of thumb if you are trying to make an eco-friendly choice is to look for local, seasonal selections that are pesticide free.  Out of season flowers will likely be shipped in from other parts of the world where pesticide use is more prevalent.
Search for Organic or Fair Trade flowers, or flowers that carry a Veriflora certification.  Veriflora is a sustainability certification that relates to fresh cut flowers and potted plants.
Some florists are fully committed to being as eco-friendly as possible in all aspects of their business.  A couple of shops that I discovered in my research were Ecostems in Toronto and Terra Folia in Montreal.  Search for eco-friendly florists online where you live to see what exists.
A DAY AT THE SPA:  Another Mother's Day favourite, for who doesn't want to treat Mom to a day of pampering and relaxation?  The trouble is that some spa treatments utilize a lot of harsh and harmful chemicals which an eco-savvy Mom might want to avoid.
When searching out spa's most who adhere to strict eco-friendly practices will usually be more than upfront about it in their marketing material.  However, some key things to look for in addition to chemical use include their procedures with respect to water conservation, recycling, sourcing of local food, the purchasing of organic cotton linens, robes and towels, adhering to principles of energy efficient design (LEED certified), as well as the use of energy efficient appliances.
A favourite spa option of mine is to visit a Scandinavian inspired nature spa.  Often designed using hot/cold geothermal baths, these spa's are rooted in over a thousand years of tradition and typically adhere to many strict eco-friendly practices.  Some notable examples are Le Nordik Nature Spa in Gatineau Park, Quebec (15 minutes from downtown Ottawa and soon to be in Whitby, ON), Le Scandinave located in Mt. Tremblant, Montreal, Blue Mountain, ON and Whistler, BC) and also Thermea in Winnipeg, MB.
TAKE OLD PHOTOS OR VIDEOS AND TURN THEM INTO A VIDEO SCRAPBOOK:  Let's face it, not all Mothers like to receive 'stuff' just for the sake of receiving a gift.  To many a Mom, sentimental gifts will mean more than anything and few things drive sentiment stronger than old photos or videos from the past.  One new way in which these collections are being assembled is through video.  (Warning…shameless plug coming).  My own media company has taken to creating video scrapbooks for Mother's Day, Father's Day, Weddings, Birthdays and Anniversaries, just to name a few occasions and the feedback from the recipients has always been positive.  Check out the Video Promo below to see what it could look like (and heck, contact me if you're interested!)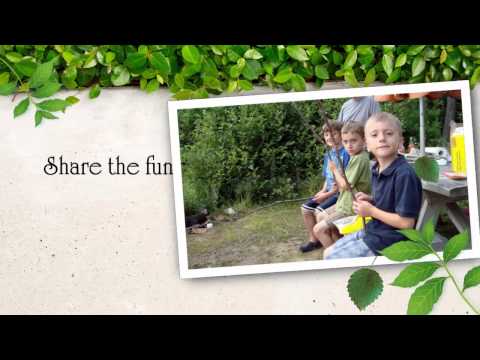 SUSTAINABLE GIFTS:  Depending on Mom's preferences, there are a host of gift ideas out there that are designed with eco-sustainability in mind.
Bamboo is a sustainable product that has great flexibility and adaptability with respect to what it can be made into.  From utensils, to placemats to furniture and even linens – bamboo can offer a host of eco-friendly gift ideas.  Check out the Bamboo Sheet Shop, an online seller of a host of bamboo bedding items.  They are US based but ship to the US, Canada and the UK.
If your Mom is a book-worm, does the book have to be a new one?  Used book stores extend the life of a book and keep them from being thrown away.  Some books are now exclusively printed on FSC certified paper, which ensures paper is sourced from forests that are sustainably managed.  Another option of course would be to pick up an E-Reader, which eliminates paper altogether.
Thinking of chocolate?  Then think of buying chocolate that is designated as Fair Trade or Organic.
If a bottle of wine is on the gift list, you can look for organic wines at you local wine or liquor store.  Beyond that though there are many wineries who incorporate sustainable practices into not just their wine making, but their overall business model as well.  I once prepared a video report on a couple Niagara wineries that practised sustainability, Chateau des Charmes and Stratus Vinyards, but additionally you could consider Tawse Winery in Niagara, Tantalus Vinyards in BC's Okanagan Valley, or a host of others from regions such as California, Australia and beyond.
MOTHER'S DAY BRUNCH:  Another typical favourite idea.  When considering which restaurant to take Mom to, think about choosing restaurants that source their food locally, or only use organically grown items.  Food sourced close to home often requires fewer preservatives and creates fewer emissions from transport.
The other choice of course, would simply to buy locally sourced or organic foods and make Mom and bang-up meal all on your own!
The above represents just a small sampling of the eco-friendly ways to show Mom your true love and appreciation, while at the same time showing Mother Nature that you care about her just as much.
Happy Mother's Day to all!