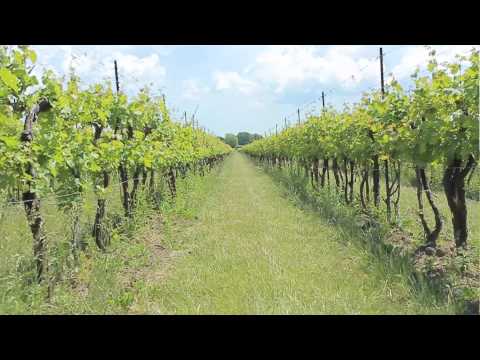 There are likely very few agricultural crops that is as intertwined with the history of human civilization, as well as that of modern technological advancement as
is wine.
Fossil vines, 60-million-years-old, are the earliest scientific evidence of grapes.  The earliest written account of viniculture is in the Old Testament of the Bible which tells us that Noah planted a vineyard and made wine.  As cultivated fermentable crops, honey and grain are older than grapes, although neither mead nor beer has had anywhere near the social impact of wine over recorded time.
Canada's wine history extends back to the 1800′s with European settlers trying to import various vinifera grapes, but the success found back then was minimal.  But over the course of the past few decades, both wineries in Canada and throughout much of the world have grown and evolved to meet the increasing demand for wine from consumers.    Meeting consumer demand as well as dealing with climatic issue in areas around the world have involved just as much science as skill, but with that we have also in some cases seen advances that have not been as environmentally friendly as we now would prefer.
Chemical pesticide use became prevalent in the later half of the 20th century and other practices such as poor usage of both land and energy became part of wine production, just as it did with many other agricultural sectors.  However, with the greater understanding and realization of human kind's impact on our planet, we have begun to see a rise in the number of wineries that have become advocates of a more sustainable method of growing and operating – so much so that there is even active planning taking place to establish global standards and accrediation related to sustainable practices in wine making.
In Ontario's wine region a number of sustainable wine producers are operating with a growing level of success.  While some of these wineries are newer operations, others have been practicing sustainability for as long as there has been a Niagara wine industry.
Established in 1978, Chateau des Charmes is one of the pioneers of Ontario's modern wine industry.  Founded by Paul Bosc Sr. a 5th generation French-Algerian winemaker, Chateau des Charmes has proudly been practising sustainability in one form or another since opening up.
"Sustainability i
nvolves looking to make sure the decisions you make are the right things in the vinyards, for the business and for the families and our community, looking with a long-term view" noted Michele Bosc, Director of Marketing for Chateau des Charmes.   Ms. Bosc notes that her father-in-law, Paul Bosc Sr. is amused by how sustainable practices seem to be new to so many when in fact much of what goes into sustainable wine making are old values and traditional techniques.  "It's really old tried and true farmer common sense, because at the end of the day we are still just farmers."
Within its business operations outside the vinyards, Chateau des Charmes has implemented numerous other sustainable best practices as well.  Minimizing use of paper, energy and waste are some of the key tenants behind their efforts and while the results are economically positive, the practices are inspired by the knowledge that sustainability throughout all aspects of their business is the right thing to do.
More is available online about Chateau des Charmes and their sustainability practices.
About 10 minutes in distance from Chateau des Charmes but about 25 years apart in age is one of Niagara Region's smaller wineries, but one with a complete devotion to sustainable practices since its inception.  Stratus Vinyards has been producing low yield, high quality wines since 2002 and is owned by David Feldberg, the President & CEO of Teknion Corporation, one of the world's leading sustainable office furniture and design companies.
To Stratus, sustainability involves many components.  "It's about how you give back to the Earth – the way that you harvest your vines and the way that you treat for different pests or fungus" notes Suzanne Janke, Director of Hospitality and Retail for Stratus. "But it's also how you manage the production of wine and the facility you produce your wine in.  It's how to reduce your energy consumption, or water use and even how heavy is your glass you bottle with."
Stratus Vinyards incorporated energy efficiency and responsible building practices when building its winery and as a result became the first winery in Ontario to qualify for LEED Silver status.  It's even noteworthy that, given its smaller volumes they are still able to make deliveries in a Toyota Prius Hybrid vehicle which they have had since 2005.
Stratus Vinyards also publishes their sustainability practices on their website and they encourage all visitors to learn about it.
Sustainable wine production is becoming an increasing priority around the wine making world.  To that effect, efforts have begun to create and regulate a sustainable wine making accreditation process, similar in principle to say what VQA is to Ontario wines or ISO is to world standardization.  Paul Bosc of Chateau des Charmes is Chairman of the Canadian Vintners Alliance, and as such sits as Canada's representative to the international panel that will meet again this fall in New Zealand.
As is with so many other forms of sustainable or eco-friendly initiatives, much of the solution to the problems at hand are rooted in our history.  It is reassuring then to know that, where wine making is concerned many responsible producers in Canada and around the world are seeing both the benefits of reaching into our past to learn about sustainable practices, for by doing so they are acting as responsible stewards of the land for the generations of our future.