I'll be honest and admit, there isn't much in life that I enjoy more than surprising the heck out of my kids.  Part of the reason is because I'm really nothing more than a big kid myself, while part may be that I'm just being a Dad.
As a self-employed father of four, money is always tight and we simply don't have the resources to plan big vacations or getaways that you so often see filling up the social media feeds of others you know.  In fact the only one of my children who has ever set foot in a plane is my eldest, who is 13 and spent an hour in a Cessna for his 4th birthday.
However, I've never been one to let limited finances get in the way of searching for unique and memorable opportunities.  I count myself lucky given the work that I do, and with having my own proprietary web site that I have been afforded opportunities to do things which others have not.  While we may have never spent a week at an all-inclusive of ventured down to Disney World, my kids will openly admit that over the years they've been able to do some pretty cool stuff.
However, they've never had a celebrity or a sports hero come over to the house to pay them a visit.  That is, until 3 days ago.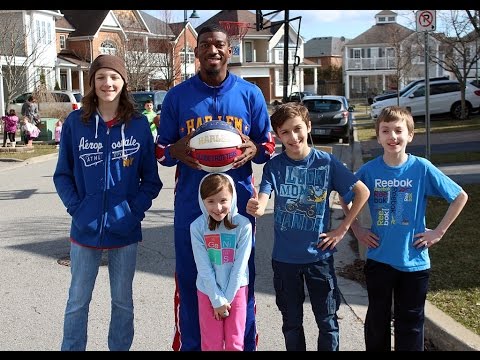 I received a press release recently from the Harlem Globetrotters PR team that the world famous basketball entertainers were embarking on their 90th Anniversary tour, and that they would be making various stops in the Greater Toronto Area and southern Ontario.  3 of my children had seen the Globetrotters before a few years back and it was an amazing experience.  As I was looking at the tour schedule I noticed they would be performing in Oshawa, ON which is within 20 minutes of my home.  At that moment I remembered something I had seen not long ago and an idea began to form in my head.
During their Ontario tour in 2014 a fellow Dad blogger named Chris Read who lives in the Ottawa area and runs a great site called Canadian Dad, managed to get a member of the Globetrotters to visit his kids before a local show.  I thought the idea was amazing and something his kids would always remember.  Knowing that they had done it once before, I thought it wouldn't hurt to see if the team would be willing to do something like that again.
Several emails were exchanged and I was eventually connected with the marketing and PR manager at the General Motors Centre in Oshawa.  He liked the idea, worked out some logistics and turned to the team for approval.
2 days before one of the Globetrotters was scheduled to be in the area for some publicity work I received word that the team approved the visit and that Buckets Blakes, a 14-year team member, and a world record holder would be stopping by for a half-hour just as the kids came home from school.
My wife will tell you how I was giddy like a school-kid when I told her what I had managed to pull off.
I really wanted to keep this as a surprise so perhaps it was best that there were only two days between when I found out and when it was to happen.  When I get really excited about something like this, I tend to suck at keeping it a secret for too long.
With the help of my friend Ian MacCready, we set up a few video cameras to record the event.  I don't have a basketball net, but neighbours and friends of ours were willing to let me borrow theirs.  I had set it all up, and paced back and forth until the kids came home.  Within 5 minutes Buckets had arrived and over the next half hour, several other kids and parents from the street came out for what was an amazing experience that nobody will ever forget.
As a 14 year veteran, Buckets Blakes has visited 79 countries and has done hundreds, if not thousands of media events or meet and greets like this.  He knows his role and he is an excellent ambassador for his legendary team.  The kids enjoyed learning from him, and he was even easy-going enough to suddenly accept an invite to enjoy an on-camera bowl of cereal with me (which I learned from his BIO that he does every night).
The experience we had with Buckets is indicative of the high quality experience that families enjoy when taking in a performance of this legendary troupe!  With a mix of athleticism, skill and well-refined comedy, the Harlem Globetrotters (not to mention their woeful opponents) time and time again bring high quality, family-friendly entertainment to arenas around the world.
When I take my family on April 13th to see them in Oshawa, it will be my 3rd experience (the first being when I was a kid) and I eagerly wait to see the reaction of my youngest, who at 6-1/2 will be seeing them for the 1st time.
And while I still hope to be able to take that long-sought after family vacation sometime in the future, at least I know that in the interim, I can use the opportunities provided me to create some pretty damn cool experiences that might just be more memorable in the end than simply sitting on a beach amidst a lovely setting sun.