The numbers are clear and the picture that the numbers depict are both good and bad.
By "the numbers" I am referring to the fact that transportation, of which automobiles are included) account for approximately 13.5% of our global carbon footprint.  Since automobiles aren't going to disappear any time soon, the challenge for automakers of course, is to reduce the amount of carbon emissions they create since carbon emissions are the primary contributors to man made climate change.
All automakers see the problem as a challenge that needs to be addressed and they are collectively developing technologies to meet the challenge.  Perhaps the one technology with the greatest potential is that of fully electrified drivetrains, or simply Electric Vehicles.
After years of development, automotive dealerships are slowly beginning to see full EV's being added to their sales floor.  The Chevrolet Volt was one of the first, as was the Mitsubishi MiEV.  Also amongst the mix is the subject of this latest Enviro Dad Test Drive, that being the all electric Nissan Leaf.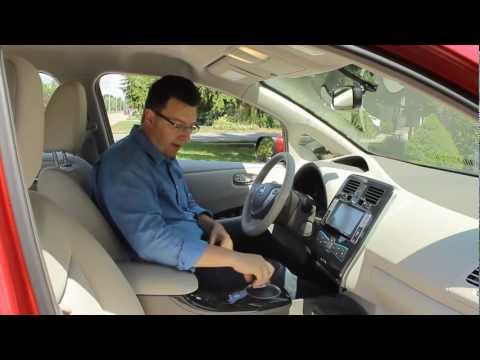 I was very impressed with the 2012 Nissan Leaf.  I'm impressed with just how easily adaptable this car is to normal family life for the majority of North Americans.  While there certainly is work to be done in terms of advancing the technology so that drives can be longer, charges can be shorter and additional vehicles can be rolled out, I take this as a huge step in the right direction.  With more EV's from other manufactures either now available or soon to be available such as the Ford Focus EV, the Toyota RAV4 EV, the Chevrolet Spark EV, not to mention offerings from Tesla Motors, Fisker, BMW, Mercedes and more, it seems that slowly but surely automotive makers realize that the true path to green prosperity is through the dedication to green sustainability.
SPECIAL NOTE: If you want to see how adaptable the Nissan Leaf can be, check out this story on how a hotel in Nashville, Tennessee has rolled out the 1st Nissan Leaf Stretch Limo!
BY THE NUMBERS (OUT OF 10)
LOOK/DESIGN:                     8.5
DRIVE:                                    8.5
ECO FACTOR:                      10.0
FAMILY FACTOR:                 8.5
TECH FACTOR:                      9.5
VALUE:                                    8.5
($39,995)
OVERALL SCORE:                 9.0