When your roof suddenly decides that it doesn't want to keep water out anymore and that it needs to be replaced, you summer vacation ideas tend to take a swift and dramatic turn.
While never looking to do anything extravagant, since with a family as big as mine, extravagance is a synonym for great gobs of money, we had nonetheless hoped to getaway somewhere this summer.  It's a tradition for families with kids in school – to use the 9 or 10 weeks available during the summer break to get away and spend time together, and my wife and I had similar hopes for this summer as well.
Then our 15 year old roof decided it didn't want to do its job anymore.  Given that we had already replaced our washer and dryer as well as our dishwasher this year (yup…all of them 15 years old, just like our house), the extra several thousand dollars we now have to find quickly meant that any getaways for us this year are going to be close to home, and more than likely day trips.
While this may be disappointing, we're still lucky enough to live in the Greater Toronto Area, and because of that, there are more than enough family-friendly and exciting day trip opportunities to make our now-determined staycation one that still offers plenty of fun.
A regular favourite destination for our family has been Medieval Times Dinner and Tournament – an exciting, family-friendly dinner attraction inspired by an 11th century feast and tournament. Guests are served a four-course banquet and cheer for one of six Knights competing in the joust and other tests of skill including almost two hours of jousting, swordsmanship, thrilling hand-to-hand combat, displays of extraordinary horsemanship and falconry as part of an exciting yet touching story set in Medieval Spain.
My family and I have been several times and loved each experience.  On a recent visit I decided to bring my video camera along, and was also given some unique access behind the scenes to try and share with my readers and viewers what the experience was like.  Check out the video by clicking on the image directly below to see for yourself (but then come back and keep reading since there might just be a ticket giveaway happening at the end of this post.)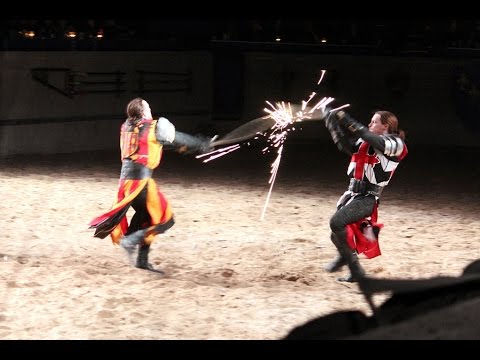 The good people at Medieval Times reached out to me recently to ask if I'd be willing to help spread the message about their theatre again, and whether I'd like to bring my family back for another visit (Yes…I am disclosing the fact that my family will visit once more as guests of Medieval Times in exchange for this post).
Naturally we said yes, but I'd also like to give my readers a chance to visit as well.  SO I'M HOLDING A GIVEAWAY!
I'm happy to be able to offer 4 tickets to an upcoming show at Medieval Times in Toronto.  There are multiple ways you can enter, and all of them are found below.
THIS GIVEAWAY WILL RUN UNTIL SUNDAY, AUGUST 13TH AT MIDNIGHT, so don't delay!