Despite only having 4 medium sized trees on my property, I typically have a huge whack of leaves to clean up each fall.  The combination of living beside a green-belt, plus the fact that somehow my house sits smack-dab on a weird, wind-vortex or something like that, usually means that when it comes to the fall yard work, we're punching well above our weight.
While this always means extra work, it isn't necessarily a bad thing.  In a classic making lemonade out of lemons scenario, it turns out all those extra leaves we have to gather up can turn into a much bigger leaf pile than we'd otherwise be entitled to.
And when there are leaf piles in this family…there are people jumping into them.
This year I decided to put the video camera to work while we took part in some autumnal-aerobatics, which is really all part of just being a dad, and the following provides a nice, little recap!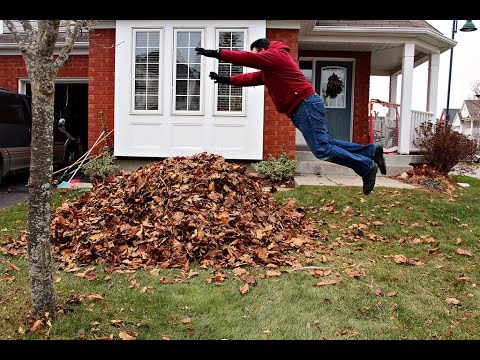 Here also are a selection of pictures that show you a sample of the fun we had.  If you haven't ever tried something like this yourself, or as a family activity…what are you waiting for?!