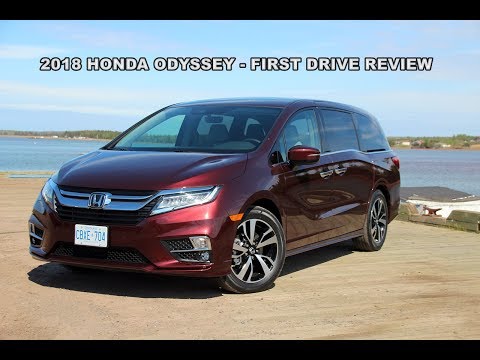 (CHARLOTTETOWN, PEI) Ahhh, the much maligned minivan.  For reasons dictated by superficial style mavens, minivans have earned a reputation of being the antithesis of cool.  Despite the fact there isn't a vehicle type better suited for families who require spaciousness and versatility, minivans unjustly have taken a back seat to SUVs as the vehicle of choice for those who apparently prefer style over substance.
I'm not afraid to say right here and right now that I am an outlier.
For families such as mine where a third row of seats is required by default, I have yet to drive an SUV (and I've driven many) that can meet the needs of my family better than a minivan.  Regrettably there are fewer minivan options available today than at their heyday back in the mid 90's, but those that remain do so with dogged determination and a commitment to be as relevant today as they were a generation ago.
Honda is one of only a few automakers who remain dedicated to the minivan.  The Honda Odyssey first debuted in 1995 and for the 2018 model year, it will launch its 5th iteration of it's boxy and spacious family-hauler.
Of the remaining minivan options in existence, the Odyssey has always been distinctive in its exterior design.  With more of a low-slung design compared to the taller and more rotund appearance of the Toyota Sienna or even the new Chrysler Pacifica, the 2018 variant doesn't stray far from what makes it distinct.  The addition of the signature flying wing grille as well as a more swooping and elegant belt line are the most distinctive changes to the exterior.
However, minivans have never really been about the outside.  No, for families that love minivans they will all tell you it's what's inside that counts, and to that end the 2018 Odyssey has a lot for fans to be happy about.
There has been considerable effort put into the redesign of both the driver information cluster and the centre-stack information centre.  Most notably is the fact that the physical mechanical gear shifter has been replaced by a button arrangement contained within the centre-stack and near other controls for climate control, audio and more.  The net result is an increase in free space to place items such as a purse or small grocery bag.  While I've used Honda's button arrangement several times before, I still found it took a bit of getting used to.  My 3-point turns weren't as smooth and swift as usual, but with time and practice this should be a non-issue.
The driver information centre is simple, clear and easy to work with.  There can be a tendency for automakers to over-burden us with information in front of our eyes (yes Cadillac, I'm talking about you), but the Odyssey thankfully can't be called out for providing TMI here.
A couple new features have been added to the centre-stack that are clearly focused at families and are well deserving of special recognition.  On the top-end Touring trim level (or Elite level in the US), the CabinWatch feature places an infrared capable camera up on the ceiling and with the press of a button allows live video images to be displayed on the display audio screen.  The images work day or night and are more effective than the convex mirror that is housed in the glass-holder situated above the centre-stack.  Should you have a reason to speak to 3rd row passengers, you can then select CabinTalk, and your voice will project through the rear speakers making "What? I can't hear you!" no longer a viable excuse to not do as you say.  If the kids are wearing headphones while watching the roof mounted video screen, you also have the ability to mute the source audio and have them hear you through the headsets – just like an airline Captain would be able to do on a plane (I can't wait to try "This is your Captain speaking" to my kids when I bring this home for a week).  Toyota already has it's similar Driver Easy Speak feature available on it's Sienna and Highlander, but I like this one a bit better.
Another notable improvement to the 2018 Odyssey relates to its 2nd row seating.  All Odysseys are shipped with seating for eight, but the middle part of the 2nd row can be removed to create seating for 7 with Captain's type chairs in the middle.  But it needs to be said that these are no regular Captain's chairs – oh no, these would be magic, as in Honda's own Magic Seats.
The beauty of these chairs is that not only do they slide forward and back, but they also slide side to side.  There is about 12 inches of slide for each chair which means they can be joined together or split apart (should certain behavior of the occupants necessitate doing so).  They also can allow for easier access to the third row, even if there is an affixed baby seat on the side you are trying to enter from.
Third row passengers are further considered in the 2018 Odyssey by the addition of a new app called CabinControl which allows passengers via their smart phone to control the rear entertainment system, rear cabin heat and air conditioning, and send destinations to the embedded Honda navigation system.  Additionally through CabinControl, Social Playlist operates like a virtual jukebox, allowing up to seven passengers to upload their music choices to the audio system via their smartphones.
On the top-end Touring (or Elite) trim, second- and third-row passengers can enjoy streaming video on the ceiling-mounted, 10.2-inch WSVGA Rear Entertainment System using the available in-vehicle 4G LTE Wi-Fi, public Wi-Fi or user's cellphone data plan. The system now plays Blu-ray™ discs and features a new "How Much Farther?" app that lets passengers track the family's trip progress, embedded streaming apps for kids such as HappyKids and Toon Googles.
Powering the 2018 Odyssey is an updated 3.5L naturally aspirated V6 engine that is borrowed from the Pilot, it's successful 3-row SUV cousin.  Putting out 280 hp and 262 lb/ft of torque, it's about a 30% increase from the previous engine.  The engine is paired with either a 9-speed automatic or an all-new 10-speed on the Touring/Elite trim.  Combined fuel efficiency is 10.7 L/100 KM or 22 US MPG with the 9-speed and 10.6 L/100 or 22.2 US MPG using the 10-speed automatic.  While these numbers are pretty good for the size and weight of the vehicle, it's at this point where I have to share my biggest disappointment with the launch of this 5th iteration Odyssey.
I had hoped to see a hybrid powertrain on offer with this launch, given that one does exist with the Asian variant of the Odyssey, plus the fact that Honda has committed to significantly increasing it's electrified offerings by 2020.  The fact that as of right now only one engine is offered to me shows a level of caution that is while understandable, perhaps also a bit misguided.  There is a market for larger family vehicles that optimize fuel economy, and the high-praise coming so far for the new Chrysler Pacifica eHybrid is proof.  Acura has just launched a hybrid version of it's MDX 7-seat SUV so it shows that such a offering is possible if Honda is willing to offer it.  I'm willing to take the high-road on this one though and assume that just because a hybrid Odyssey isn't offered now, doesn't mean it won't be offered soon.
That all said, the Odyssey in it's present powertrain configuration provides a stable, reliable and reasonably efficient ride.  We weren't challenged too much by the scenic terrain along our drive route of Canada's smallest Province, but this isn't intended to be a vehicle for pushing performance limits anyway.
SUMMARY
Automotive preferences are highly subjective, and are based on not only a variety of styling options, but also on functionality and personal requirements.  Minivans clearly have lost the aesthetic eye of many car buyers, but beauty is something that is always in the eye of the beholder.  In the case of the 2018 Honda Odyssey, the outside isn't as bad as many suggest, but the real appeal is definitely on the full line up of features and amenities that meet the needs of families across the spectrum.  This is a vehicle that has plenty to offer families that require comfort, convenience, functionality and practicality.  It's also not that bad to look at if you're really willing to give it a chance.
Minivans aren't going away, and it seems neither is the Honda Odyssey – which in both situations is a good thing indeed.
Disclaimer:  Travel and accommodations for this launch event were provided by the automaker.  All opinions expressed however remain solely those of the author and were not subject to any review or approval prior to publishing.