Despite being someone who regularly reviews new cars as part of my work here on EnviroDad.com and elsewhere, I've never really been much of a car guy.
I'd tend to tell people that I'm more of an environmentalist who reviews cars than I am a car guy who likes to review eco-friendly options.  That said, I still can freely admit to having an affinity for certain makes and models of automobiles while growing up and in my more formative years.
One of those models for the better part of the last 15 years or so has been the Nissan Maxima.
Ever since the launch of the sixth generation Maxima in 2003 ( 2004 model year) the Maxima has always caught my eye.  A sports sedan with solid lines, great performance, plenty of interior space and solid fuel economy was always a winner with me.  While I lost some of the love with the seventh generation model that covered the 2009-2014 model years, the launch of the latest generation Maxima had me keenly interested once again.
I recently had the chance to spend a week in a 2017 Maxima and from that time together, I was able to put together the following video review: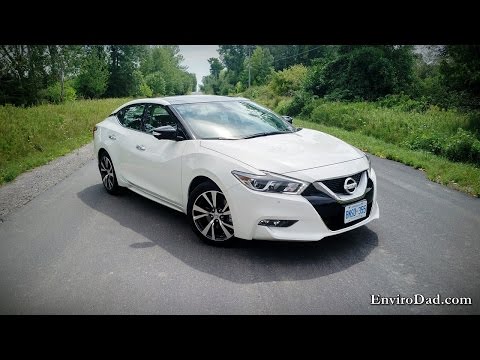 Conclusion:
While there are some small design characteristics that I feel are off-the-mark, overall the 2017 Nissan Maxima is a winner.  As a mid 40's male, I'm probably right in Nissan's demographic sweet spot where the Maxima is concerned and from my vantage point it hits the target with pretty effective precision.
It's been a favourite of mine for some time now, and there seems to be little worry of my admiration for the Maxima abating any time soon.