EDITOR'S NOTE: Revised and updated with video for 2015.  Video is based upon a modified text of the version below and includes images and videos from dozens of Dads.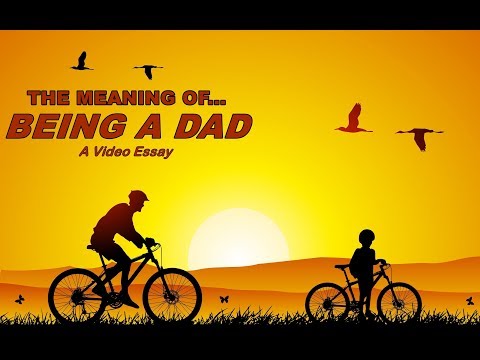 With Father's Day just around the corner, I wanted to share with you a few thoughts on what I believe to be the true meaning of what I call just being a Dad.  Here is what being a Dad means to me:
Requires that you know there's a difference between protecting and preventing.
Involves the transition from being someone who was selfish, to one who is selfless.
Causes me to accept the fact that it's really no longer about me any more.
Means remembering that we have not inherited this planet from our ancestors, rather we are only borrowing it from our children.
Demands that I always keep in mind that one generation plants the trees, while the next gets the shade.
Asks that I always keep in mind the greater good is far more important than the perceived greatness of having goods.
Involves being able to walk a mile in pint sized shoes.
Requires that you be comfortable with being a hero to someone but respectful of the power that being a hero entails.
Means that just as soon as you've figured some aspect of parenting out, you have to learn another one as the kids keep changing too.
Involves knowing that your kids are watching and listening to every thing you do or say.
Requires that you know how to build a snow-fort which no army could ever get past, followed by knowing how to make the best hot chocolate EVER once you come back inside.
Teaches you how to survive with less sleep, since your kids will get you up during the night when they are younger and keep you up at night once they are older.
Means that you make mistakes along the way, and that while you think you've just ruined your child for life in the process, you discover they're actually more resilient that you think.
Requires you to remember that once upon a time you did the same senseless and stupid things as a kid that your kids do today, and yet you somehow still survived.
Teaches you that you don't actually need to go to the Gym when your kids are young since they are more than happy to act as substitute weights to perform chest presses, arm curls, push ups and sit ups.
Prepares you for hearing the word "again" each and every time you do something with the kids that is fun for them but physically draining for yourself.
Quickly teaches you that no matter how many times you say "just this once" it will have no bearing whatsoever on how many times you'll be asked to do it.
Has one particular advantage over being a mom in that stress induced gray hairs on dads are actually viewed as positive and distinguished.
Nowadays requires that you are just as skilled with a spatula as you are with a screwdriver
Is at the same time both the scariest accomplishment I have ever achieved (or ever will achieve) as well as the greatest accomplishment ever…by far!
SO WHAT DOES BEING A DAD MEAN TO YOU?
I'd love to get a conversation going here and I'd love to hear from other Dads as to what it means to be a Dad in their own words.  I'd even love to hear from Mom's who want to share how they view the meaning of being a Dad through the eyes of their own Dad's or Husbands and Partners.  Please offer your thoughts in the comments section below and I'll look forward to reading them!