For individuals with limited personal mobility, getting around can be a challenge.  Someone like a senior or anyone who has suffered an injury that can limit the amount of distance they can travel independently often find themselves with limited options available to help.
Personal walkers can offer stability as well as even a place to rest, but ultimately a person is limited by their own physical capacities when it comes to how long or how far they can travel.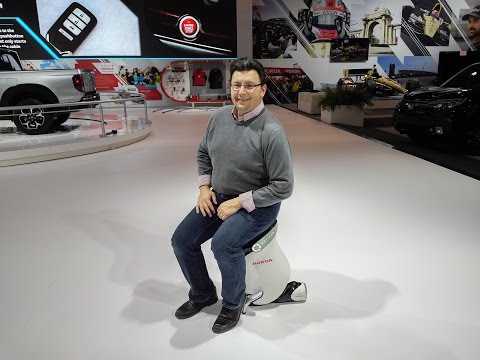 To the engineers at Honda, this apparently presented an opportunity to develop a device that can enable people with limited physical mobility to further and easier than ever before.
Enter the Honda UNI-CUB.
Developed in Japan, The UNI-CUB is a new personal mobility device that combines compact saddle-style packaging with the same freedom to move forward, backward, laterally and diagonally that people enjoy when walking by Honda's proprietary balance control technology and the world's first omni-directional driving wheel system.
The device is only a concept at this time, despite now being on a second iteration.  While no details are available as to when a device like this may be offered to those who would most benefit from it, Honda nonetheless is touring it around for journalists and other interested parties to see and demonstrate.
While attending Media Day at the 2016 Canadian International Autoshow in Toronto, ON, I was offered the chance to drive the UNI-CUB in a limited setting, but was able to see pretty quickly how it clearly has potential.
It's a unique device in that there are not actual parts to hold onto or control when it comes to movement and steering.  The device operates on body leaning and weight transfer so it takes a bit of getting used to and perhaps even a little bit longer to master.  That said, once you do get used to it, there is a certain amount of intuition that instinctively takes over.
This isn't a creature comfort unit, nor is it a recreational or entertainment device.  Should Honda proceed with it, I certainly hope it's only made available for those who need it and not those who would prefer to sit on their keester when getting around as opposed to walking.  I couldn't help but have visions of the movie WALL-E as I powered it around and I can only presume that's not the image Honda designers have in mind.
However, with a combination of proper targeting and effective pricing, I can truly see how the Honda UNI-CUB could have an important role to play in the role of mobility enabling at some point in the future.