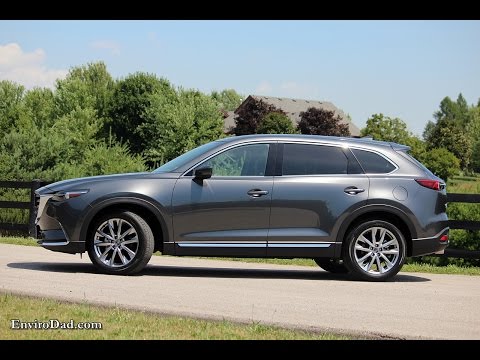 If you want to be competitive in the mid-size family crossover category, you'd better be bringing your A-game.
Over the past 2-3 years there has been a dramatic increase in the quality and appeal of 3-row crossover vehicles designed for families.  New iterations of the Toyota Highlander, Honda Pilot, Volvo XC90, Mitsubishi Outlander, Kia Sorento and Ford Explorer plus upcoming releases of re-done or re-freshed models such as the Acura MDX mean that to be competitive in this very popular segment, you can't just mail it in.  Each of these new iterations have improved in areas of fuel efficiency, technology, convenience and overall design.  It's now to the point where if you're trying to sell something long-in-the-tooth, you don't have much chance at success.
Over at Mazda, their CX-9 – once considered cutting edge, was clearly falling behind.  With only minor refreshing to its 3-row crossover since it first debuted in 2006, a next-generation version was long overdue.
With the launch of the 2nd generation CX-9 for 2016, Mazda is not only back in the game, they may have once again jumped to the top of the heap.
The 2016 Mazda CX-9 is an extremely attractive design that while being slightly smaller than its predecessor, offers more interior legroom and space.  It is also more fuel-efficient as Mazda has removed its V6 in favor of their first turbo-charged 4 cylinder SkyActiv engine.  The 2.5L Dynamic Pressure Turbo engine has been specially designed by Mazda's North American engineering team after studying the needs and habits of typical crossover drivers.  The new engine when using 87 octane fuel offers 227 horsepower and 310 lb/ft of torque.  Best of all, the new engine has the ability to offer solid torque at lower RPM with the end result being that drivers get the feeling of thrust they want off the mark without having the large displacement engines, and subsequent fuel economy that goes with it.  With an estimated combined fuel economy of 9.5 L/100 KM, the new engine offers substantial improvements over its predecessor and becomes one of the most fuel efficient 3-row crossovers available.
Jump inside the new CX-9 and you can see where Mazda has really upped their game.  The new interior has been stretched an additional 2.2 inches which makes for more legroom in the 2nd row and easier access to the (primarily kid-focused) 3rd row.  With the addition of their new Signature trim level, Mazda has also gone where they haven't in many years – into a realm of premium feel, bordering on luxury.  With new nappa-leather interior and some stringent attention to overall aesthetics and design, the new interior of the CX-9 is easily one of the best in its class.
It's not perfect of course.  Minor annoyances such as cupholders that are awkward to access and a 3rd row entry lever that is good, but not nearly as good as what is found in a Honda Pilot, Acura MDX or Infiniti QX60 show that there are still improvements that can be made.  I also find that while the central control commander that is now synonymous with Mazda interiors is very efficient, Mazda has made too many adjustable features of the car accessible by this way alone.
A good case in point is with the very good Adaptive Heads up Display.  While the feature offers a solid list of information on a heads up display that is positioned well and not too intrusive, I dislike how you can't adjust the height and illumination of the display without digging deep into the personal settings.  For a vehicle like this which often has more than one driver, it should be easier to adjust the settings.  Cadillac vehicles offer adjustments to the HUD through switches located just beside the steering wheel, and I think Mazda should consider making adjustments easier if the HUD is going to be a prominent part of their tech offerings going forward.
One other area where the CX-9 falls short is with cargo capacity when all three rows are in use.  This is not a problem associated with Mazda alone however since all 3-row crossovers are designed with most of the interior space dedicated to passengers.  If you are a large family that regularly uses 3 rows of seats, you simply won't get a lot of usable cargo space unless you switch to a minivan.
All this being said, there are more than enough enhancements and innovations associated with the 2016 Mazda CX-9 to make this newest entrant in the 3-row crossover category a very strong contender once again.  There are many parts of this new design that I think lead the entire segment and notably among them is price.  The signature trim, while squeaking over the $50K CDN threshold, still presents solid value when compared to the top-end trims of many of its competitors.  With an entry price for a GS trim of just under $36K, the price-range for the CX-9 is highly competitive, if not advantageous over many of its main rivals.
The 2016 Mazda CX-9, with its stylish exterior and upgraded interior design, combined with solid driving dynamics and class-leading fuel efficiency has quickly brought this 2nd-generation design to the top of the heap and may well have become the new benchmark to compare against.
One way of summarizing the CX-9 is that it offers a great combination of Mazda's Zoom-Zoom, but with plenty of room.
BY THE NUMBERS (Out of 10):
LOOK/DESIGN:
EXTERIOR   10.0
INTERIOR    9.0
DRIVE:   8.5
GREEN FACTOR:    8.5
FAMILY FACTOR:    8.5
TECHIE STUFF:    9.0
VALUE:                     9.5
(As tested – Signature trim with Machine Gray Mettalic Paint:
$50,400 CDN)
OVERALL: 9.0