If you have a large family like I do, then there is nothing out there more practical than a minivan.
Sadly, minivans have been unfairly branded in recent years – succumbing to the negative connotations affixed to hauling kids to soccer, supermarkets and school by mom.  Automakers have responded to the improper backlash by largely abandoning the sector, shifting instead to the more stylish, but less-functional Crossovers and SUVs.
However all is not lost for those who still value what minivans can offer.  A few stalwarts remain, and in the case of Chrysler – the company that invented the minivan, there is actually a renewed sense of innovation.
For 2017 Chrysler has launched it's all new Pacifica minivan which will replace the outgoing Town and Country from it's line up.  This completely new design strangely borrows a nameplate from a mostly forgettable crossover that is no longer made, but also moves FCA forward to a new level of suburban-swank.
I decided to review the Pacifica while partaking in an annual family tradition – and one that puts any family-hauler to the test.  I used it to take my family camping.  Have a look at the video results: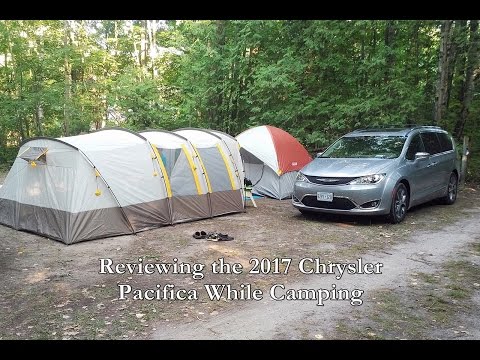 There is plenty of swagger in this wagon, and once the Plug-in Hybrid variant is launched later this year, I may have finally seen what I've been asking automakers for years to provide – a fully-functional, yet eco-friendly family hauler.
Minivans may yet be cool once again!