If you've ever said "I'd buy an EV if the range wasn't so limiting" or "I'd buy an EV if it wasn't so expensive" – you may be running out of excuses.
When Tesla Motors announced they would develop a EV with at least 200 miles of range and priced at around $30K, the Model 3 was a gauntlet dropped and one where other automakers were going to have to respond. The first company to do so was General Motors.
At the 2015 North American International Auto Show in Detroit, G.M. revealed a new concept EV called The Bolt in the same press conference as they did the Gen 2 Chevy Volt.  Reaction was both strong and positive – so much so that only six weeks later at the Canadian International Auto Show in Toronto, G.M. announced the Bolt would go from concept to production model within 2 years.
As of January of late 2016 in selected parts of the U.S. and as of January, 2017 here in Canada, the Chevrolet Bolt EV is available for purchase – albeit it with limited quantities, far less than what is needed to match demand.
As the Bolt EV was a finalist for the 2017 Canadian Green Car Award, and eventually it's overall winner, I had the chance to drive the Bolt for several days.  During this time I was able to shoot and prepare this video review: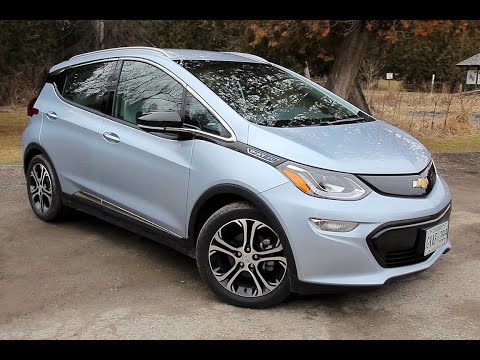 The Chevrolet Bolt EV is a game-changer.  While it may not yet be the type of vehicle that will erase all doubts about the capability and affordability of battery electric driving, it has raised the bar high enough to where many of the old arguments against EVs are becoming almost obsolete.