Toyota may not have been the first automaker to introduce hybrids to North America, but they certainly are the best known.  And while Toyota may have several hybrid models in their line-up, there is no single model that has greater recognition or significance than the Prius.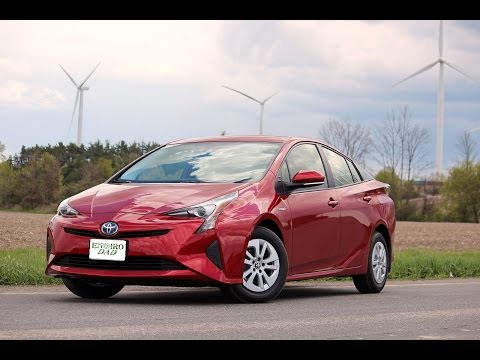 The Prius is Toyota's original, and still best-selling hybrid.  First launched in Japan back in 1997, and released globally in 2000, the Prius has sold almost 4 million units worldwide as of mid-2016.  For good or bad, it remains the benchmark hybrid by which all others are compared.
For 2016 Toyota has launched its 4th generation Prius, and with it has continued to push the envelope in areas of technology, fuel-efficiency and even aesthetics and design.  The Prius has always been known for being uniquely designed both inside and out.  It has a distinctive look that has continued with the 4th generation model and one that typically lends itself more to function over fashion.
Its teardrop inspired shape does well to minimize wind-resistance yet offers little room for many of the mainline design features which appeal to car buyers who fall outside of the core market the Prius caters to.  It's not an ugly car per se, but by the same token it certainly isn't a design that will have people head-turning with envy as you drive by.
This compact sedan is an ideal car for urbanites and smaller families who want to reduce their fuel-consumption but don't want to move to battery-electric or alternative propulsion vehicles just yet.  With the 4th generation, Toyota has made improvements in critical areas such as an engine's thermal-efficiency and aerodynamics to produce their most fuel-efficient Prius ever.  The interior remains a bee-hive of information with multiple read-outs providing ample information on driver performance, as well as the host of typically-expected details.
As with previous iterations of the Prius the gear-shifter remains quirky and unconventional.  New users will need time to adjust to the shifting patterns necessary, but sadly this is not an issue which is unique to Toyota.  Given the fact that transmissions are essentially electronically controlled now, automakers are taking creative liberties with their design that may or may not be a good thing.  Whereas automatic transmissions used to always be designed in a reliable sequencing, we are seeing everything from rotary knobs, to vertical push button stacks and other non-traditional shifting movements that can run the risk of confusing drivers about when they are in drive and when they are not.
While creativity is welcomed in certain aspects of car design, my preference would be to see a more universal approach and the Prius would benefit by following along.
However despite its somewhat polarizing design and it's less-than-ideal gear-shifter, there are more than enough positives with the 2016 Prius to maintain the vehicles designation as the best-selling hybrid in the world.  I was particularly impressed with the fact that after a week of mixed-use driving I was able to maintain a combined fuel-economy rating of under 4.0 L/100 KM.  This has huge appeal to me and I suspect it will with others as well.
For the time being the Prius is only available in it's traditional compact configuration, and only as a traditional hybrid.  A plug-in hybrid will be out in early 2017 and one might expect to see similar renditions of their Prius C and Prius V variations in the future.
With the 2016 Prius, Toyota has shown once again that it is committed to hybrid technology, and that it likes to design them for drivers who like to use as little fuel as possible in a vehicle that clearly sets itself apart from the traditionally designed pack.