When it comes to dinner theatre, they seemed to have a pretty good thing going back in the 11th Century.
At least that is what I can only assume given that we are 1,000 years into the future and my presumption stems from the experience my family and I recently encountered while attending a performance at Medieval Times Dinner and Tournament in Toronto, ON.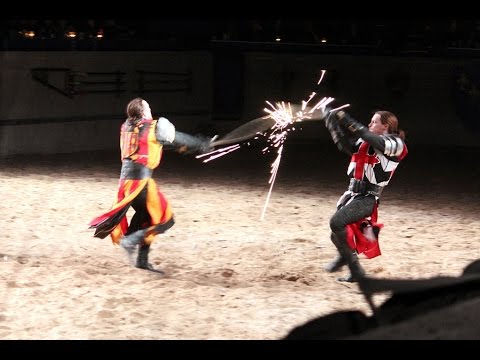 As the above video review shows, the entire premise around Medieval Times is to take you back to 11th Century Spain and to experience what it might have been like to attend a tournament featuring brave Knights battling each other in feats of skill, while dining on what would've then been a succulent feast for the masses.  While I can only trust that they have done their research in creating an authentic experience, from my 21st Century POV, I know that the end result is one that is highly entertaining for both young and old.
My first visit to Medieval Times took place about 20 years ago.  I attended with about 40 other adults and we had a blast cheering on our favorite Knight.  With this visit, I found attending as a parent to be just as fun since I loved watching my children so engaged with the show and loudly cheering as the action took place in front of them.  In comparing the two experiences, my takeaway is that this show is perfectly designed for both young and old, and if you are prepared to have fun, you won't come away disappointed.
After 30 years and welcoming some 60 million guests across their 9 North American locations, Medieval Times has managed to do what very few live entertainment concepts have been able to – that is to stand the test of time and to bring people back throughout the generations.
Medieval Times Dinner and Tournament is a thoroughly enjoyable family experience, but for those living in the Greater Toronto Area, I don't just want you to take my word for it!  No, to help prove my point, I'D LIKE TO GIVE AWAY 4 TICKETS TO ATTEND ONE OF THE SCHEDULED MARCH, 2016 PERFORMANCES, COURTESY OF MEDIEVAL TIMES AND ENVIRODAD.COM.
(Disclaimer: Tickets to attend Medieval Times for the purpose of this review were courtesy of the proprietor.  All editorial thoughts and opinions remain solely those of the author and producer.)