While the Hyundai Ioniq Hybrid and Electric have been available in the U.S. since early in 2017, Canadians have been forced to wait on the sidelines as pricing had yet to be determined.  However, Hyundai Canada sent out a release today finally revealing what it will cost to purchase an Ioniq on this side of the 49th Parallel.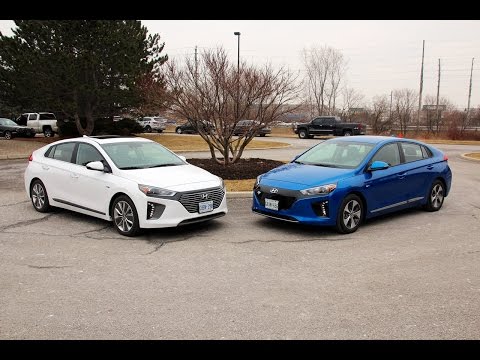 The Ioniq Hybrid will have pricing begin at $24,299, while the all-electric variant will begin at $35,649.  The Ioniq Hybrid will be available at all Hyundai dealers in Canada, while the Ioniq BEV will be primarily available at dealers that have installed charging stations and located in provinces with government purchase incentives, namely Quebec, Ontario, and British Columbia. Hyundai dealers offering the Ioniq Electric can be identified at www.HyundaiCanada.com 
Ontario purchasers of the Ioniq BEV would qualify for a full $14,000 rebate (after taxes), while in British Columbia the rebate is $8,250 and $8,000 for purchasers in Quebec.
With a range of 200 KMs, it was predicted that the Ioniq BEV would be strategically priced below that of the Chevrolet Bolt EV.  The Bolt in Canada is priced beginning at $42,795 and has a range of 383 KMs.  It will be interesting to see whether EV buyers are happy to pay the additional $7- 8K (freight charges not included) for the additional range, or whether they'll see a 200 KM range and a lower price point as more appealing.
| | | |
| --- | --- | --- |
| Version | Hybrid | Electric |
| Blue | $24,299 | N/A |
| SE | $26,499 | $35,649 |
| SE Cold Climate Package | N/A | $36,849 |
| Limited | $29,749 | $41,849 |
| Limited Tech | $31,749 | N/A |
The Ioniq will also be available as a plug-in hybrid, however pricing details won't be known until closer to it's late 2017 release date.