Sometimes you accept a story idea expecting to learn about one thing and you wind up learning about a whole lot more.
Such was the case when I accepted an invite from Hyundai Auto Canada to visit the only registered Tucson Fuel Cell vehicle in Ontario and speak with the person who leases it.  It turns out that the leaseholder is not only an enthusiast with respect to fuel cell vehicles, but also someone who co-founded a company that is among the world leaders in developing the potential of hydrogen and it's utilization into a sustainable energy grid.
The following video covers my visit to Hydrogenics in Mississauga, Ontario, my interview with Chief Technical Officer Joseph Cargnelli and some time I spent getting to drive around his 2016 Hyundai Tucson FCEV.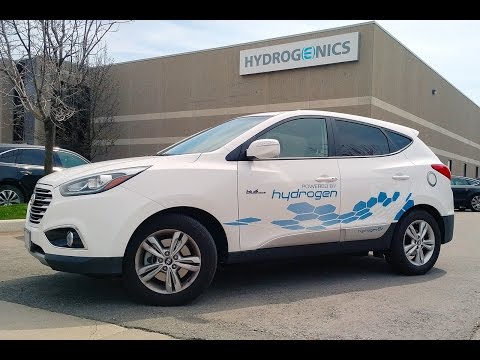 My visit to Hydrogenics turned into be more of an eye-opener than I expected.  While I have always known about, and been an advocate of the potential that hydrogen fuel cell vehicles offer, I was remarkably unaware of how versatile and viable hydrogen is as an essential aspect of a sustainable energy grid of the near future.
The versatility of hydrogen to store excess renewable energy and integrate it into our currently well-developed natural gas pipeline system – thus creating a readily available energy storage system, is remarkable.  Even if a day should occur when our society no longer needs natural gas as part of our energy grid, hydrogen still has the capacity to be used with modifications in the same way it could almost immediately.
One of the greatest impediments to utilizing a greater amount of renewable wind and solar energy into the power grids across North America has been the lack of suitable means to store renewable energy and used when either the wind isn't blowing or the sun isn't shining.  Hydrogenics has proven through it's efforts in Germany and elsewhere that we currently have most of what we need through the utilization of natural gas pipelines, and all that appears to be standing in the way, it the political and corporate will to get it done.
Hydrogen is the most bountiful element in the Periodic Table, but it may also be the most under-utilized.  Perhaps it's time to change that.