(Dearborn, MI) Fully autonomous driving is coming, and Ford wants to be a part of it.
During a 2-Day annual conference put on by Ford at their Dearborn, MI world headquarters called "Ford Trends", about 200 media attendees on hand were told of Ford's commitment to launch a scalable, mass-produced, fully autonomous vehicle by 2021.  This autonomous vehicle would be designed without a steering wheel or pedals and would initially be intended for car sharing services to use in their commercial operations.
Development of a prototype is already well underway.  A highlight of the conference for selected members of the media was a chance to sit inside a modified Ford Fusion which had been fitted with sensors and computers that allow it to drive autonomously.  These prototypes still have a steering wheel, gear shifter and foot pedals, but when activated by on board product engineers, the units are able to drive autonomously.  Better still, they are not designed to only follow a pre-determined and protected route.  The demonstration which I was able to experience took the vehicle in and around the streets near Ford's Dearborn R&D Center and involved having to deal with live and spontaneous traffic as well as pedestrians.
The following video recaps my early autonomous drive experience: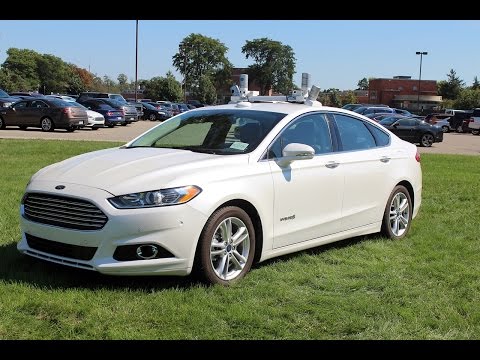 While much work remains to be done in order to bring fully autonomous vehicles from the pages of Science Fiction to Dealership lots, what's clear is that there is no longer a question of "if" this will happen, but only "when".  Based on the predictions of executives at the Ford Motor Company, the "when" is going to be sooner than we thought.
Whether that is a good thing or not is currently the subject of substantial debate but either way the idea of catching up on your reading or watching a movie while your autonomously driven vehicle gets you home from work may not be as far-fetched any more as it once was.
(Disclaimer:  Travel and accommodation to Ford Trends was paid for by the automaker.  All editorial opinions expressed in this article and video however remain solely those of the author and were not subject to approval prior to publishing.)