(Jasper, AB) It seems not all iconic automotive nameplates are willing to fall by the wayside as consumer preferences turn away from them.
As North American drivers continue to drift away from the venerable sedan and towards the growing line up of crossovers, which blend the unibody functionality and fuel economy of cars with the higher and more box-like shape of SUVs, some automakers are contemplating saying good by to nameplates that have been around for decades.  We may not see Chevrolet Impalas for example much beyond next year as sales of the full-sized sedan are crashing faster than Lance Stroll did in his first couple of Formula One starts.
But not all long-standing sedan nameplates are willing to concede to crossover dominance.  Since 1976 the Honda Accord has been holding itself high as a dominant intermediate sized sedan and has cycled through nine generations leading up to this year.  While Honda likely realizes the market potential is not what it used to be, it still sees the Accord as a viable and profitable part of their model line-up and for the 2018 model year, it launches its 10th iteration to show its commitment.
The 10th generation Accord offers a more sporty and athletic design than we've seen in the past.  Both the V6 engine and the Coupe are gone though, as Honda has decided to concentrate on a singular 4 door design.  While some may lament the loss of the V6, a new 2.0L Turbocharged engine does more than a fine job at offering similar performance but with better fuel economy.  Most Accord drivers though will likely have an enhanced version of the 1.5L Turbo engine that we've already seen in the Civic and the CR-V.  A hybrid powertrain will also be available but not until early 2018.
With the Accord getting set to hit dealerships this fall – the 1.5L Turbo will be available in Canada as of October 27th, while the 2.0L Turbo will arrive at the end of November – Honda Canada invited journalists to Jasper, Alberta to get their first chance to drive it.  The event took place last week and from that trip I've put together the following video First Drive review: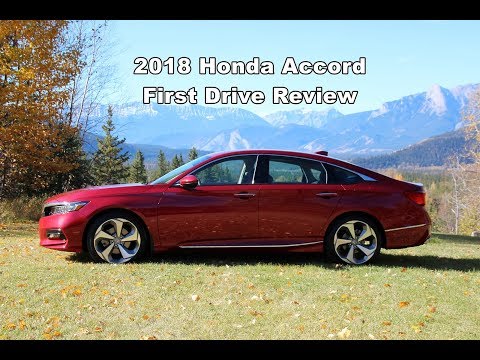 (Note: Travel and accommodations for the drive event were provided by the automaker.  All opinions expressed, however remain solely those of the author and were not subject to prior viewing or approval)