(Victoria, BC) When Honda entered the compact SUV segment with the launch of the CR-V in North America back in 1996, the market place was a whole lot different than it is today.
During the recent media drive event held on Vancouver Island, we were regaled by stories of how members of the Honda Canada product team were pulled over by police officers while driving around the 1st generation CR-V while testing it on Canadian soil for the first time. We were told that they had been pulled over not because they had done anything wrong, but because the officers wanted to know what the heck they were driving!
Today the compact SUV segment is far more competitive and developed with just about every automaker having an entrant into a category that along with it's other sized stablemates, will likely outsell sedans before too long.
Despite the overall sales success of the Honda CR-V over the past 20 years, with more than 450,000 units being sold in Canada, it is not the market leader in the segment.  Depending on the statistics you look at the CR-V can either be second or third, with the segment leading Toyota RAV4 and Ford Escape being ahead.  With the launch of the 5th generation CR-V, Honda is hoping to change this and is even aiming to replicate the tremendous sales success of its flagship Civic compact sedan.
To their credit, Honda has admitted where it knew it had to improve.  A rather generic design, both inside and out, mediocre performance and a value proposition that lagged behind its competitors were areas that they knew they needed to address with the new design.
After debuting at the Los Angeles Auto Show in November, journalists have been receiving opportunities to get their first opportunities to look over and drive the new CR-V recently, and my chance came last week.  The following video review summarizes my experience and thoughts after spending a day driving through rainy, albeit quite scenic and spectacular Victoria, BC and surrounding areas on Vancouver Island.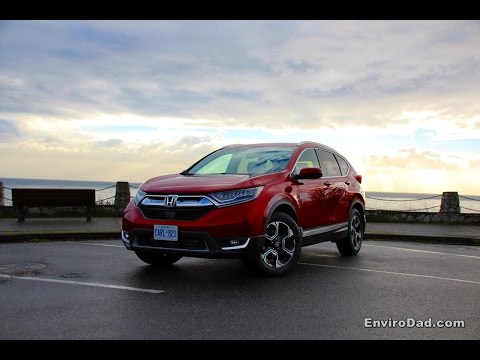 Bottom Line:  If this is the category that interests you, Honda has made a more compelling case with the launch of the 2017 CR-V to give it as much consideration as you would a Toyota RAV4, Ford Escape, or Hyundai Santa Fe Sport.  With a more appealing design, better value proposition, increased fuel economy and acceptable performance levels, the CR-V is as worthy a candidate as anyone else.
(Disclaimer – travel and accommodation for this event were provided by the automaker.  All editorial opinions expressed remain solely those of the author and were not subject to approval or review prior to publishing.)