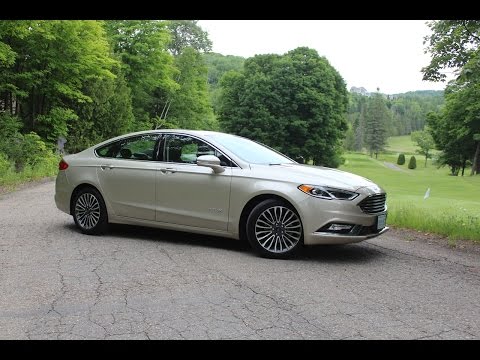 (Esterel, Quebec) As the old adage says – it's whats inside that counts.
Something can be beautiful on the outside, but if it's shallow or substantially lacking on the inside all the exterior beauty is just window-dressing.
When the latest iteration of the Ford Fusion was launched for the 2013 model year, I was someone who loved the new exterior look – a dramatic departure from a rather staid and lackluster predecessor, but found myself quite disappointed by what I found inside.  I also know that I wasn't alone in feeling this way.
Ford apparently understood this too, so when it came time to offer a mid-cycle refresh for the Fusion, they focused most of their attention on the inside of the cabin as well as under the hood, while leaving most of the exterior design alone.
The new interior designs for the Fusion offer a host of changes, the most notable of which is the use of a rotary gear shift instead of the traditional lever design.  Where only a few years ago a rotary gear shifter was something you'd typically only find in a Jaguar or Land Rover, the small footprint required has made them more popular with automotive interior designers looking to increase usable space.  By replacing the traditional shifter with the rotary, Ford has created more storage compartment space, which will always be a popular decision.
Another noteworthy change across all Fusions is the upgrading to Ford Sync 3, which is a far more intuitive and responsive in-vehicle communications and entertainment system than it's predecessor.  I've had the chance to drive a few Ford vehicles with Sync 3 installed and have pretty easily seen and noticed the interface improvements.
With respect to the Ford Fusion Hybrid, the most noteworthy change in the mid-cycle refresh is the fact that Ford has now made the Hybrid available across 4 different trim levels.  Potential Fusion Hybrid buyers can now select from the more baseline S or Se trims up to the Titanium and Platinum offerings.  I find this to be very positive because up until now, most hybrid offerings from automakers tended to be packaged higher up the price sheet which made it less accessible for those on limited budgets.  By bringing the Fusion Hybrid all the way down to a base S model, it makes it more accessible and will now be the lowest priced midsize entry level hybrid available in Canada.  That said, I'd imagine that there will be more volume of Platinum hybrid sales than S, but the mere offering of it shows that Ford is serious about increasing it's hybrid sales, which currently sit below 2% of Fusion sales in total.
Under the hood, the Fusion Hybrid essentially remains the same as it's predecessor offering a 2.0 L 4 cylinder Atkinson cycle engine paired to an electric motor and offering 188 net horsepower.  It's noteworthy that hybrid drivers will be able to experience EV only driving during the right situations at speeds of up to 135 KM/H or roughly 80 MPH.
Combined fuel economy for the Fusion hybrid is 5.6 L/100 KM or 42 US MPG.
Across the Fusion refresh, there was also a big push with respect to the amount of powertrain options available.  Ford calls it the Power of Choice, but with a total of 6 engine variants I'm more likely to see it as too much choice.
Fusion buyers will be able to choose from a base 2.5 L 4 cylinder engine, 3 different EcoBoost engines (1.5 L, 2.0L and a 2.7L V6) as well as the Fusion Hybrid and Fusion Energi Plug-in Hybrid.  While I appreciate the fact that Ford is trying to broaden it's appeal, I can't see much of an upside to having so many engines to choose from.  Customers will likely struggle to decide what is right for them and dealerships will likely have nightmares about which engines (and trim level combinations) to keep in stock.
According to Ford, they estimate that a surprising 30% of volume will come from it's 2.5 L base engine and another 30% will be attributed to the 1.5 L EcoBoost.  With the addition of the new 2.7L V6 and the fanfare that came with it, plus the ongoing commitment to both the Hybrid and PHEV variants, perhaps the traditional 2.0L EcoBoost is the one causing the overcrowding.
The refreshed Ford Fusion will no doubt continue to be a strong-seller in what is a shrinking segment.  Perhaps the overwhelming amount of choice is designed to keep consumers interested in sedans and not immediately drawn to the burgeoning small to medium sized crossover segment.  It's a risky gamble when some of it's competitors such as the Nissan Altima and the Honda Accord have much simpler, yet not unappealing selection sheets and do quite well in selling them.
From my eco-focused perspective though, give the hybrid or the surprisingly pleasant Energi PHEV due consideration, and if you need to stick to the traditional route, the 1.5L EcoBoost should be substantial enough for all but a few.
(Disclaimer: Travel and accommodations for this drive event were provided by the automaker.  All opinions expressed however remain solely those of the writer and are not subject to review or approval prior to publishing.)