So, it's Winter in Ontario and you're looking for an all-inclusive type of getaway.  Naturally you get on the internet and start looking at all the options located in the multitude of warm-weather, tropical getaways.
But hold on a minute!  What about the thought of looking for an all-inclusive winter getaway, while still being able to experience winter?  Crazy as it sounds, it's actually true that not everyone aspires to beach umbrellas and sand castles in winter.  Believe it or not, there are people who actually want to enjoy winter, for if you give it a chance winter can be full of adventure, excitement and beauty – just as any place can be when the weather is warm.
On the shores of Lake Couchiching, near Orillia, Ontario sits Fern Resort, an all-inclusive family resort that while being more predominately known as a summer getaway for the 6 Million or so living within a 3 hours drive, also has an active and growing program for winter getaways as well.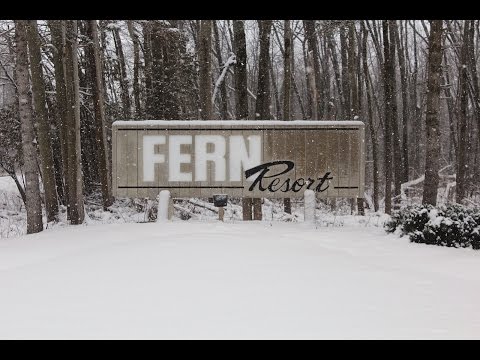 Our winter weekend getaway as the video notes was the 2nd time we have had the opportunity to visit Fern, with the 1st being during late summer.  While the facility is the same, I found each visit to offer vastly different experiences.
Summer is full of vitality and a longer list of activities.  It's also much busier as families tend to return year after year leaving the place mostly full from June to September.  By comparison our winter experience at Fern Resort was more relaxed in a general sense.  While there are plenty of outdoor activities to take part in during wintertime, it still remains quieter there as most guests return back inside when their activity is finished instead of just mulling around by the pools, or the waterfront.  As to which is more enjoyable is honestly a matter of choice.  While I enjoyed the opportunity to experienc an August weekend at Fern and all it entails, I also found the slower pace of winter enjoyable as well.
SEE ALSO:  FERN RESORT – SUMMER REVIEW
If one is considering Fern Resort at any time of the year, I would suggest that there are a few things to keep in mind.
All inclusive resorts in this part of the world typically are priced above what other similar resorts would cost where packages are designed a-la-carte.  While there are a large variety of accommodation options available at Fern Resort, it's important to note all that is included when looking at the price.  With all meals and most activities covered along with your lodging, prices can seem high but when all is factored in, the resort offers good value when compared to similar properties.
All inclusive doesn't necessarily mean all is covered.  Certain activities do come with added costs given that the resort needs to utilize resources outside their ownership or control.  Examples in winter time include Dog-sledding, Horse and Cutter rides as well as Horse-drawn wagons – each of which require additional fees.  For those who want to skate on the trail but don't have skates, rentals are available as well.
As a family-focused resort, expect to see families there.  This sounds obvious but I'm always amazed to see individuals or adult couples who seem perturbed by the fact that the dining room isn't romantically quiet with Vivaldi playing on the sound system.  On this trip up I noticed a middle-aged woman who specifically was asked to have her table moved to a distant and someone private area of the dining room as she didn't want to eat near tables full of kids being kids.
If you are looking for modern and opulent, look elsewhere.  This is not the most modern facility you'll ever visit, but they aren't trying to be one either.  Picture tube TVs still fill the rooms and they are even paired with VCRs!  You can borrow movies from the front desk which might just throw any PVR'ing, Netflix down-streaming family into a tizzy if they weren't prepared for it.  The furnishings in the rooms won't match up well against a Hyatt-Regency, Westin or similar either.  Expect more of a cottage feel than a luxury retreat, and keep in mind that there isn't a King sized bed to be found.  That all being said, this isn't a run-down resort.  It's clean, comfortable and well-suited for their primary market.
To encourage people to discover the new 1.5 KM skating trail, Fern is offering a couple of day-trip package options as well.
On Sundays visitors can come for breakfast and then enjoy the skating trail for the day.
On Wednesdays visitors can come for dinner and then enjoy the skating trail which is lit by Tiki torches for a unique skating experience.
For each option, prices are set at $35 p.p. for those aged 13+, $25 p.p. for ages 4 – 12, and free for those under 4.  All prices are subject to additional HST.
I've always been a firm believer that winter is what you make it.  If all you do is sit on the sofa each night and cocoon until spring, winter has a nasty way of outliving its welcome.  However, if you decide to prepare yourself to get outside and enjoy many of the marvelous aspects that winter typically provides, chances are that you will feel better both physically and emotionally, and you will also be amazed at how short-lived the season can actually feel like.  Winter is a pretty awesome time of year if you give yourself the chance to notice – even if you can't walk around in flip-flops and shorts.
By offering a host of enjoyable, seasonally-appropriate and actively-minded winter activities, combined with a relaxed atmosphere, contemporary but not pretentious food offerings and a comfortable, but not grandiose setting – Fern Resort is well-suited to help Ontarians turn the winter-blahs into the winter-ahhs.
More information about Fern Resort is available by visiting www.fernresort.com
(Disclaimer:  Accomodations and fees associated with some activities experienced for the purpose of this review for myself and my family were provided by Fern Resort.  However, all opinions expressed in this review remain solely my own and without reservation.)