I've always had a lawn cutting conundrum.
As the owner of a home on a corner lot, I have a lawn that extends along its front, side and back.  There is too much square footage to effectively utilize a push mower so a motorized machine is what I use.  Given that I've also been cognizant of trying to minimize my carbon footprint where possible, I've opted against buying a gas-powered mower.
For most of my time living at my current address, I've been cutting the grass with a corded electric mower.  While it did the job, the fact that my lawn also had 4 trees, a light pole, a no parking sign and a mailbox to negotiate around made the long electric leash very cumbersome to work with.  I have always wanted to move to a cordless battery electric model, but up until now the combination of higher prices with lower performance kept me from giving it much thought.
It was with much interest then that I came to learn of the EGO Power+ 56V Cordless Lawn Mowers which have recently come onto the market.
Boasting that its 56V 5.0 Amp battery would offer the same level of torque as a gas motor yet with plenty of battery life to manage just about any residential lawn, the combination seemed ideal, so I was eager to see if it would be the mower I've been looking for.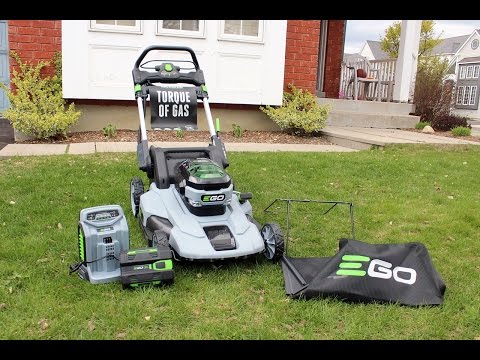 IMPRESSIONS
After running the EGO Power+ Mower through a full cut of my front, side and back yard I was immediately struck by how invigorating it can feel to not be constrained by an extension cord.  I can honestly say that being able to continue cutting the lawn without having to double-back to avoid getting tangled around obstacles saved perhaps 5 – 10 minutes from the overall time needed to cut my lawn.
I also never felt any range anxiety since at no point did the battery warning light come on which would indicate less than 15% charge remaining.  While the actual run time of the battery will vary depending on climatic conditions as well as how long the grass is, it would seem that I'll likely be able to consistently get 30 – 40 minutes of run time which is more than what I'd need.
The quality of the mulch created by the mower was as good as I expected it to be.  While EGO Power+ mowers come with a bag attachment, I will always opt to mulch and I recommend this to others.  The fact is that mulching provides nutrients to your lawn, plus many municipalities are now either discouraging or outright prohibiting grass clippings from your yard waste.
An interesting feature of the EGO Power+ mower is the LED headlights which can be used when a little extra light is needed.  I'm not sure how often this would come into play since most neighbors don't take too kindly to running a lawn mower after dark.  While the noise level of this mower is less than that of a gas-powered motor, I think I'd generally stick to cutting under the sun.
As for the battery itself, the 56V 5.0 Amp lithium battery charges in an impressively short period of time.  The rapid charger unit boasts that it will charge the battery in 30 minutes, and while I did not keep a stop watch on the process, it certainly seemed to live up to its claim.  Only time will tell how well the battery will perform after multiple uses, but for now it seems to more than able to do the job.
I also am quite impressed with how the unit easily folds up and can be stored vertically, or even hung from a hook to minimize the floor space it takes up.  My previous corded mower was difficult to fold up its arms and as a result it usually stayed that way despite taking up more floor space on the garage than it should.  There are no such worries with the EGO Power+
If there is one aspect of the EGO Power+ mower that I do have some reservations over, its with the price.  According to the Home Depot Canadian and US websites, this mower retails for $699.00 CDN and $499 USD.  This represents perhaps a 30% to 40% price surcharge compared to similar gas powered motors and as much as double the price of corded electric motors.  While there certainly is value in the product and the quality is indeed high, at this point my feeling is that the premium price will limit the overall appeal it carries with general consumers.
That being said, if you are indeed in the market for a new lawn mower and you are committed to the idea of a battery powered model, I would certainly not hesitate to suggest that an EGO Power+ model be given every consideration.
SCORING (OUT OF 10):
Ease of Use:                                    8.5
Performance:                                9.0
Durability:                                      9.0
Features:                                         9.0
Value:                                               7.0
OVERALL:                                      8.5
(Disclosure:  Review product supplied at no cost to reviewer.  All thoughts and impressions however remain solely those of the author with no input or editorial expectations from the manufacturer.)