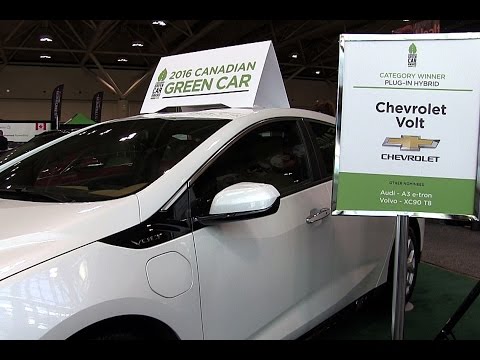 TORONTO, ON – The Chevrolet Volt has won the 2016 Canadian Green Car Award.
A panel of top Canadian automotive journalists selected the Volt, the plug-in family car with a battery-powered range of up to 85 kilometres, from among six category winners as the vehicle that best combines environmental benefits and mass-market appeal.
Tim Gray, Executive-Director of Environmental Defence, which has worked effectively since 1984 to protect Canadians' environment and human health, presented the fourth annual Award trophy to Nicolas Longpre, Assistant Brand Manager with Chevrolet Canada, at the Green Living Show in the Metro Toronto Convention Centre.
"Chevrolet is honoured to receive the 2016 Canadian Green Car Award here at the Green Living Show, as it reinforces our leadership commitment in electrification of the automobile," said Nicolas Longpre. "With up to 85 kilometres of EV range, the second-generation Volt is a no-compromise electric vehicle that eliminates range anxiety with its on-board generator, making it the most innovative plug-in vehicle in the industry."
"Congratulations to Chevrolet on winning this important environmental award," said Tim Gray.
"Radical changes are coming to the automotive industry, Gray noted. They include transportation services offered by manufacturers that "will show up at your house with the model you need that day and take it away when you are done," and autonomous automobiles "with the possibility of making the car a shared appliance rather than a personal possession."
Still, Gray said, "our car is going to be with us for quite a while. That is why I am so excited to see the exciting innovation that is underway," including continuous improvement in fuel efficiency for internal combustion vehicles … as well as the success of electric propulsion in hybrids, plug-ins such as the Volt, or full EVs."
The Chevrolet Volt had won the Plug-in Hybrid category, in an earlier selection round, after extensive testing and assessments by the judges.
The category winners include:
Battery-Electric/Zero Emission                   –             Nissan LEAF
Plug-in Hybrid                                                   –              Chevrolet Volt
Conventional Hybrid                                       –              Hyundai Sonata Hybrid
Efficient Internal Combustion                      –             Mazda3 GS
Efficient Three-Row Family Vehicle           –              Volvo XC90 T6
Fun Car                                                              –            Tesla Model S P90D
The Canadian Green Car Award recognizes vehicles, widely available in Canada, that combine impressive environmental attributes with strong mass-market appeal,
As a result, the assessments included both "objective" criteria, such as fuel economy, emissions and price, and the judges' evaluations of performance, driving experience, value, features and "green" qualities. Those environmental benefits included not only fuel efficiency and emissions but also the use of sustainable or recyclable materials and measures taken by manufacturers to green their operations.
"I'd like to congratulate Chevrolet, the other category winners, and all the manufacturers who every year make it increasingly difficult for the judges to assess vehicles for the Canadian Green Car Award, but better for consumers," said Laurie Simmonds, CEO of Green Living Enterprises. "The Award finalists on display at the Green Living Show represent the best in class, but they also reflect the manufacturers' commitment to improving and greening all of their products, whether propelled by gasoline, battery power, fuel cells or a combination of these technologies".
The competition began with judges submitting five nominees for each category. They could choose any vehicle as long as it met basic "green" criteria based on technology type and fuel economy. Each year, the fuel economy criteria are made increasingly stringent, in line with government standards that require, on average, a five per cent improvement annually until 2025.
Entries in the Fun Car category, added last year to demonstrate that "green" can be synonymous with driving pleasure and excitement, also required the ability to accelerate from zero to 100 kilometres per hour in 7.5 seconds or less.
The vehicles with the most support in each group moved on to the next round in which the judges selected the six category winners. Finally, they picked the overall winner from among those finalists.
This open process, in which eligibility doesn't depend on whether a manufacturer is willing to pay a substantial entry fee, is in line with other global green car awards and makes the program a very meaningful gauge for consumers.
Ford's Fusion Hybrid won the inaugural 2013 Canadian Green Car Award, followed in 2014 by the Honda Accord Hybrid and last year by the Kia Soul EV.
About the Canadian Green Car Award
The Canadian Green Car Award is Canada's premier award recognizing vehicles with the greatest potential for environmental benefits. The Award, now in its 4th year is an independent program developed by automotive journalists Eric Novak, Michael Bettencourt and Peter Gorrie, who comprise its steering committee. The Award recognizes vehicles, widely available in Canada, that offer both impressive environmental attributes and strong mass-market appeal, since any product can have a significant impact only if it sells in large numbers.
For more details on the 2016 Canadian Green Car Award, including the list of all vehicle nominees and the judges who assessed them, visit www.canadiangreencaraward.ca .