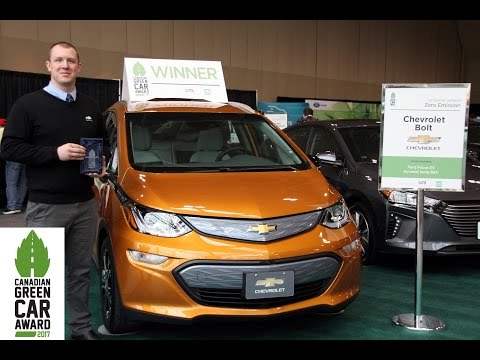 TORONTO, April 7, 2017 – The Chevrolet Bolt today won the 2017 Canadian Green Car Award.
A panel of 13 top Canadian automotive journalists selected the Bolt, a groundbreaking electric vehicle with a 383-kilometre range, from among six category winners as the vehicle that best combines environmental benefits and mass-market appeal.
Andrew Horsman, Executive-Director of Ontario Tire Stewardship, which recycles 95 per cent of Ontario's tires into a variety of useful and valuable products, presented the fifth annual Award trophy to Matthew Stokes, Assistant Brand Manager for Chevrolet Canada, at the Green Living Show in the Metro Toronto Convention Centre.
"It's a true honour for Chevrolet to be recognized again with the Canadian Green Car Award, with Volt in 2016 and now the game-changing Bolt EV in 2017", said Matthew Stokes, Assistant Brand Manager, Chevrolet in Canada. "Chevrolet is committed to innovation and electrification and we are proud to sell more plug-in electric vehicles in Canada than any other brand."
"Congratulations to Chevrolet on winning this important environmental award," said Andrew Horsman.
"It is an honour to help announce the finalists and winner of this year's Canadian Green Car Award. It is amazing to see the innovation taking place within the automotive industry, and OTS is eager to applaud these efforts that inspire us to rethink the way we do things to improve our environment."
OTS is celebrating an important milestone of its own, Horsman added. Its Used Tires Program has now recycled 100 million tires since the program opened in 2009. Before, many of these tires ended up in landfills or accumulated into tire piles, which posed serious environmental and safety risks.
To help understand how many tires that is, 100 million tires stacked on top of one another is the equivalent height of more than 36,000 CN Towers.
For this year's Canadian Green Car Award, the Bolt had won the Zero Emissions category, in an earlier selection round, after extensive testing and assessments by the judges.
The category winners include:
Zero Emission                    –             Chevrolet Bolt
Plug-in Hybrid                                                   –              Chevrolet Volt
Conventional Hybrid                                       –              Hyundai Ioniq
Efficient Internal Combustion                      –             Honda Civic
Efficient Three-Row Family Vehicle           –              Chrysler Pacifica Hybrid
Fun Car                 –              Jaguar XE 2.0D
According to Eric Novak of EnviroDad.com, the Award's Co-Creator and member of the Steering Committee, the Bolt EV was the clear choice of the judging panel receiving 11 of 13 1st place votes from among the 6 category winners.  "Our list of category winners this year was exceptional, however in the end our judges felt that the Chevrolet Bolt EV with its game-changing range and competitive price point was most deserving of being named overall winner".  The Chrysler Pacifica Hybrid was the only other vehicle to garner 1st place votes, receiving the other 2.
The Bolt and other category winners will be on display for the duration of the three-day Green Living Show, open until 9 p.m. today; from 10 a.m. to 8 p.m. on Saturday; and 10 a.m. to 6 p.m. on Sunday.
The Canadian Green Car Award recognizes vehicles, widely available in Canada, that combine impressive environmental attributes with strong mass-market appeal,
As a result, the assessments included both "objective" criteria, such as fuel economy, emissions and price, and the judges' evaluations of performance, driving experience, value, features and "green" qualities. Those environmental benefits included not only fuel efficiency and emissions but also the use of sustainable or recyclable materials and measures taken by manufacturers to green their operations.
"My congratulations to GM and the other category winners, who have once again demonstrated the auto industry's determination to keep raising the bar for both environmentally beneficial technology and overall quality and driving experience," said Laurie Simmonds, CEO of Green Living Enterprises. "Several years of strong, often record-setting, sales also prove that these improvements are not only good for consumers but also for the manufacturers' bottom line."
The 2017 competition began with the Award Steering Committee selecting three nominees in each of the six categories, based on meeting essential "green" criteria related to technology type and fuel economy.
Each year, the fuel economy criteria are made increasingly stringent, in line with government standards that require, on average, a five per cent improvement annually until 2025.
Entries in the Fun Car category, demonstrating that "green" can be synonymous with driving pleasure and excitement, also required the ability to accelerate from zero to 100 kilometres per hour in 7.5 seconds or less.
The judges then evaluated the nominees, including test drives, data from manufacturers and their own experience, to nominate the six category winners.
Finally, the judges selected the overall winner, announced today, from among the category winners.
This open process, in which eligibility doesn't depend on whether a manufacturer is willing to pay a substantial entry fee, is in line with other global green car awards and makes the program a very meaningful gauge for consumers.
Ford's Fusion Hybrid won the inaugural 2013 Canadian Green Car Award, followed in 2014 by the Honda Accord Hybrid, the Kia Soul EV in 2015 and, last year, the Chevrolet Volt.
The Canadian Green Car Award is Canada's premier award recognizing vehicles with the greatest potential for environmental benefits. The Award is an independent program developed by automotive journalists Eric Novak, Michael Bettencourt, Andrew McCredie and Peter Gorrie, who comprise its steering committee. The Award recognizes vehicles, widely available in Canada, that offer both impressive environmental attributes and strong mass-market appeal, since any product can have a significant impact only if it sells in large numbers.
For more details on the 2017 Canadian Green Car Award, including the list of all vehicle nominees and the judges who assessed them, visit www.canadiangreencaraward.ca .