It's not often that I plan a car review two years in advance.  Or to be more accurate, it's not something that I've ever done before.
But then there never has been a vehicle quite like the Tesla Model X before either.
The Model X is Tesla's follow up to it's hugely successful Model S sedan, the all-electric vehicle with an available driving range in excess of 400 KMs and a possible acceleration time of 0 to 100 KM/H in under 3 seconds.
The Model X is Tesla's first crossover SUV design with available seating for 7 adults (the Model S had a quirky 7 seat capability that involved putting 2 rear-facing child seats under the back hatch) as well as eye-catching but controversial Falcon-Wing doors for access to the 2nd and 3rd row, which replace traditional 2nd row regular doors or sliding doors such as found in a minivan.
When Tesla debuted its prototype for the Model X and announced they would begin receiving deposits for orders with deliveries to begin in 2014, I knew that getting early access to a unit for review would be difficult.  Given that production volumes would not match interest for some time, Tesla would likely have difficulty offering interested journalists like me any seat time.  Using their Model S roll out as a baseline it took me more than a year to get into one, and then I only had it for a few hours.  I knew that if I was going to get any early seat time in a Model X, I would need to find opportunities beyond the traditional approach that I usually take.
As luck would have it, a roundabout opportunity appeared before me in the Summer of 2014.
Since 2008 I have been a trained presenter with The Climate Reality Project Canada (TCRC), an organization established by former U.S Vice President Al Gore and partnered in Canada with the David Suzuki Foundation to deliver presentations on the reality of Climate Change to Canadians.
In 2014 I was asked to produce a series of promotional videos for TCRC which included interviewing trainees from across the country.  One of the trainees I interviewed was Brad Dibble of Midhurst, ON whom I had met when he was trained in 2012 during a global training session with Mr. Gore in San Francisco.  During my time with him shooting his testimonial he shared with me that he had just put down a deposit on a Model X.  While Brad is a Cardiologist by profession he is an avid fighter against Climate Change and even wrote a book on the subject.  He felt that both his success in life as well as his desire for change made the decision to purchase a Model X a pretty easy one.
During our chat I told him that I respected  his decision and that if he were interested in doing so, I would like to shoot a profile of him and his new vehicle purchase once it arrived.  He agreed and over the next two years we kept in touch until this summer when he told me the news that his Model X had finally arrived.
After some schedule coordinating, I agreed to travel up to Muskoka along with my assistant to meet Brad while he was spending some down time at his cottage, and the following video is the end result of our visit and the culmination of two years of planning.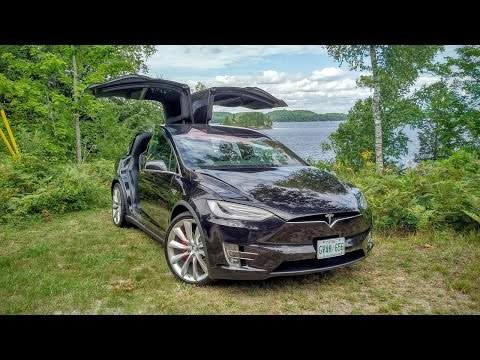 IMPRESSIONS
While my time with the Model X was far shorter than I'd prefer, for a first experience with it I'd offer the following impressions:
AN SUV DESIGNED LIKE A CAR – Tesla has identified the Model X as a crossover SUV, and while it does have certain SUV attributes, I prefer to see this more as a people hauler than any sort of sport utility vehicle.  The unique aerodynamic shape of the Model X, makes it 20% more aerodynamic than any other SUV on the market, but also makes it impossible to secure a roof rack.  There is an available rear mounted rack that could hold bikes, boards or similar but I don't see it as being as versatile.
MOVES PEOPLE BETTER THAN PARCELS – The unique design of the Model X may make it difficult to envision that it seats up to 7 adults, but in actuality it does so quite well.  The Falcon-wing doors make access to the 3rd row pretty easy, but where I find some pragmatic difficulty is with the 2nd row seats.  They are comfortable for sure, but the main drawback is that they don't fold down to offer more cargo space when needed.  The 3rd row seats do, but the 2nd row seats only move forward, which can make using the Model X a challenge if transporting larger objects is what you're trying to accomplish.
THE MODEL X GETS HITCHED – One of the more remarkable achievements of the Tesla Model X is that it is the first all-electric vehicle to offer a significant towing capacity.  If you are going to call the Model X an SUV than it better be able to tow, and with a possible tow rating of 5,000 lbs (using 20″ tires but only 3,500 lbs with 22″ tires), it certainly has the capability to haul a boat or even a moderate sized trailer.  Towing will of course reduce the range of the Model X, but published reports have shown this reduction to only be about 70% of normal range (which is between 320 and 465 KMs depending on battery size).
A NEW KIND OF PANORAMIC VIEW – One of the more unique design elements of the Model X is the HUGE panoramic windshield.  Offering a virtually unobstructed view, the windshield extends high above the A-pillar and connects with the roofline beyond where you'd be looking straight upwards.  It's an incredible view but offers some challenges as well.  Tesla has tinted the upper portion of the windshield but complaints did emerge from drivers who still wanted a sun visor when the bright sunshine was low.  The Model X owned by Brad Dibble did have a sun visor attachment which rests within the A-pillar when not needed and then clips out and across to where the rear view mirror is attached when required.
AUTO PILOT DRIVING TAKES GETTING USED TO – The Model X I drove came equipped with the Auto Pilot feature and while I only demoed it for a couple of minutes, it certainly is something that will take getting used to.  I realize there is significant upside to this type of technology but I am also of the opinion that it should only be used as an accessory, much like cruise control and not something to heavily rely upon.
BOTTOM LINE IS THAT IT'S AN INCREDIBLE PIECE OF TECHNOLOGY – While there will always be things I could be nit-picky with, the bottom line is that the Model X is one incredible piece of technology.  This vehicle now offers an affluent few the opportunity to have an all-electric powered vehicle meet the vast majority of their personal vehicular needs.  Yes, it's an affluent few at the moment since you aren't likely to put one in your driveway without extending beyond six figures, but this was never meant to be a mass-market vehicle in the first place.
I look at the Model X and its Model S stable mate much the same way as we looked at early personal computers in the early 90's or mobile phones a decade ago.  They were incredible advancements in technology that came with limitations in usability as well as very steep price tags.  However, just as computers have used Moore's Law to rapidly advance in capability while decreasing in price, so too will battery-electric vehicles.  With the Chevrolet Bolt EV starting production later this year, and the Tesla Model 3 due to start hopefully within the next year, we are seeing EVs begin to transition from niche product to mass-market potential pretty quickly.
Despite the naysayers, the reality is that BEVs are here to stay and they are only going to get better, cheaper and more a part of mass transportation across the globe.  It no longer is a matter of if, but when – and the when is getting ever closer to now.