Think back to 20 years ago – which would be 1997 based on when this post is being written.  Back in 1997 odds are highly likely that at some point you had a single-use plastic item such as a water bottle, produce or grocery bag, ring liner to hold beverage cans together or similar – and that after using it you possibly threw that item away.
Those items were never given a second thought once it left your hands, but there is a stark reality that even if you placed that item into a recycling bin the chance exists that the very same plastic item you touched 20 years ago is today sitting either at the top or near the bottom of our world's oceans.
20 years is the timeline used because that's approximately how long it takes a piece of plastic to find it's way from a local body of water, such as our Great Lakes and then travel to one of several ocean gyres around the world.  While in these areas, the plastics slowly break down into smaller particles that are then either ingested by wildlife or become carbon sponges, absorbing c02 which then accelerates the warming and toxicity of our oceans.
Here are some statistics that while frightening are worth noting:
More than 8 Million tonnes of plastic are dumped into our Oceans each year.
About 50% of the plastic we use is only used once and then thrown away.
Packaging is the largest end use market segment accounting for just over 40% of total plastic usage.
Annually approximately 500 billion plastic bags are used worldwide. More than one million bags are used every minute.
A plastic bag has an average "working life" of 15 minutes.
Over the last ten years we have produced more plastic than during the whole of the last century.
It's all pretty stark information, and the reality of just how large an environmental crisis single use plastics have become is only now becoming evident.  Similar to Carbon emissions in our atmosphere, there is a long-term legacy of plastics in the ocean that is not easily fixed.  There is also a large-scale lack of knowledge among consumers, governments and industry as to the size and scope of this problem.
To overcome the knowledge deficit, there are fortunately an increasing amount of initiatives being undertaken to inform and educate.  One such initiative is a new full-length documentary film called A Plastic Ocean which will have a number of viewings taking place across Canada in January, as well as the film being made available on iTunes.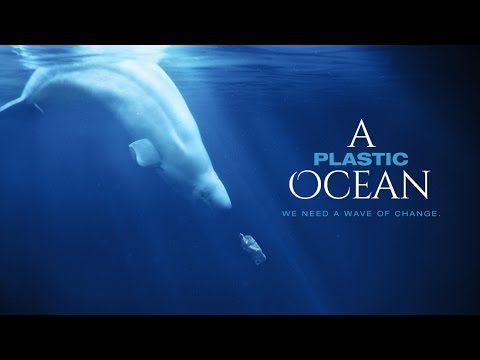 The film is visually both serene and frightening.  It includes magnificent footage of ocean life and beautiful vistas, while also including some shocking visual realities of an environmental catastrophe we have pushed onto aquatic wildlife through no fault of their own.
To demonstrate the lack of awareness regarding the issue in focus, Producer Jo Ruxton explained that the film took 8 years to go from a concept to creation, and this was mainly due to funding issues.  This film isn't necessarily about making money, but rather about education and information.  So to find the approximately $3 Million necessary to make the film, it took many years of pitching the right people who saw the need to make this film and then scheduling shoots as money trickled in.
The two explorers in this film are Australian journalist Craig Leeson and Tanya Streeter, a Cayman born, Brit who now lives in the U.S. and at one time held the world record for free diving.  Together they travel and filmed in 20 locations across the globe to explore the stark realities of a modern society obsessed with plastic yet largely unaware of the harmful downstream effects it can have.  In speaking via Skype with Streeter from her home in Austin, Texas I learned how her role as a mother of two provided more than enough motivation to be a part of this film even though it meant that doing so would keep her apart from her family for prolonged stretches of time.
After seeing the film I can honestly say that even with my deeper level of environmental knowledge than most people would have, I found the film disturbing but also enlightening and even inspiring.  While this film does focus more on the problem and not enough time on providing solutions, there still remains a generally well balanced approach to make this a film not just for the environmental crowd, but for all citizens.
As a part-time college professor I also see this as a great educational piece and Plastic Oceans does have a mechanism to provide screening opportunities for educational institutions as well.
I would encourage individuals with a desire to learn more about what will only become a more significant problem in the months and years ahead to consider either attending a scheduled screening or opting to download the film directly.  In Canada the following screenings are scheduled to take place on January 24th with links provided for timing and ticket information:
Toronto  – https://ca.tugg.com/events/a-plastic-ocean-a67n
Ottawa  – https://ca.tugg.com/events/a-plastic-ocean-oxg_
Calgary – https://ca.tugg.com/events/a-plastic-ocean-qm39
Halifax – https://ca.tugg.com/events/a-plastic-ocean-syfh
There is also a screening taking place in Vancouver on January 19th
For those wishing to see the film but not able to participate in any one of the above screenings, this movie will be available on iTunes as of January 20th.
Our oceans are in jeopardy due to a host of man-made factors with plastics being one of them.  We owe it to our fellow citizens as well as our future generations to at least take the time to become better informed of the tragic situation we have created, and to begin to re-think about how we not only use but view single-use petroleum derived plastic in our modern society.  Watching Plastic Oceans is one way to start the process.
For more information on plastics in our oceans, consider visiting the Plastic Oceans website.