(SANTA MONICA, CA) It's amazing how much difference almost six years can make.
Around the time I began including automotive reviews into my regular coverage and not long before I launched EnviroDad.com, I surveyed the landscape for 3-row family vehicles that were also very good on gas.  My youngest child was not yet a year old and with her arrival, we went from a family that could squeeze into 2 rows to one where a 3 row vehicle was now mandatory.
It's no surprise to say that pickings were slim.
Over the years since, I began to see hybrids, EVs and advances in combustion technology bring fuel consumption lower and lower, but the focus tended to be on smaller vehicles.  I wondered if there would ever be a day where I could drive a minivan that either fully or at least partly ran on a battery.
Move forward to mid-November, 2016 and I didn't need to wonder any longer.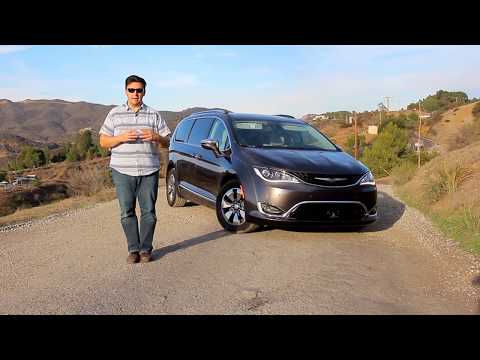 The 2017 Chrysler Pacifica Hybrid is the first minivan to carry a battery and a plug.  Its 16 KW/h lithium-ion battery will allow you up to 48 KMs (30 miles) of EV driving, which is more than a number of smaller PHEVs.  My drive partner on our media launch event and I were able to achieve these ratings so we can vouch that the vehicle is indeed capable of hitting the posted target.
Paired with a V6 Pentastar engine, the Pacifica Hybrid offers 260 combined horsepower.  Not quite the same as the regular Pacifica, but in my first drive up and down the hilly terrain near Los Angeles, CA I was impressed by the torque available from the battery and how when required, the gas engine will "top up" the power needed to provide enough oomph to meet just about all the needs regular minivan drivers have.
One thing the Pacifica Hybrid can't do however, is tow.  Rather than create a transmission and power-delivery system that can accommodate towing, FCA engineers decided to optimize everything for fuel economy instead.  I was told that the uptake on the regular Pacifica for the tow package was only about 5%, so it would seem that the designers feel there is more upside to fuel economy than hauling a boat to the cottage in the spring – and I tend to agree.
One challenge faced in building the hybrid variant is where to place the battery.  The decision was made to place it low and centred which means that the typical 2nd row Stow'n'Go feature would not be available on the Pacifica Hybrid.  The 2nd row seats are removable however, so if you really, really need to haul 64 sheets of plywood or equivalent, it will be just like the old days when Stow'n'Go instead meant sneaking into the Drive-in tucked away in the trunk of your Dad's Oldsmobile and not putting passenger seats below the floor.
You also won't be able to add the Vacuum to the Hybrid due to wiring restrictions, but again this is a new-ish feature that while nice, isn't a game-breaker.
What the Chrysler Pacifica Hybrid does offer is an exceptionally fuel efficient family-hauler with plenty of space, comfort and a solid driving experience.  While official figures haven't been determined, it is estimated that the Pacifica Hybrid will achieve fuel economy ratings (City) of 2.9 Le/100 KM or 97 MPGe.  The 'e' essentially designates that the fuel consumption ratings are based on a combined utilization of battery electric, and regular hybrid/gasoline driving.
SEE ALSO:  2017 Chrysler Pacifica Review – Camping with the Family
For the worry-worts who feel that batteries aren't as reliable as gasoline engines, FCA has offers a fully transferable 10 year or 160,000 KM battery coverage.  Using a 240V charge port, a full charge is available in as little as 2 hours, while if you stick to a basic 120V, you'll need closer to 14 hours to charge up.
In Canada, the Pacifica Hybrid will be launched in only one Premium trim level which essentially means that it's loaded to the hilt.  In fact the only option offered is a tri-pane panoramic sunroof.  The end result is that the MSRP is a bit of a doozey at $56,495, however given the size of the battery and a host of other factors, the Pacifica Hybrid qualifies for the full EV rebates offered in Ontario ($14K), Quebec ($8K) and British Columbia ($8,250), which is where the majority of these units are likely to be sold.  Ontario buyers will be able to get into the loaded Pacifica Hybrid for $42,495 after rebate which puts it squarely alongside popular trim levels of the regular Pacifica, as well as the Honda Odyssey and the Toyota Sienna.  With the substantial fuel savings, over the long term the value proposition with the rebates included is pretty darn good.
30 years ago Chrysler invented the minivan segment, and while it's nowhere near what it was at its heyday in the late 90's and early 2000's, there are still enough devotees to make such a significant innovation and investment likely to pay off.  Estimates are that about 90,000 minivans will be sold in Canada in 2016 with FCA taking around 70% of that market.
With the combination of high functionality and versatility for families, attractive styling and precedent-setting fuel economy, I firmly believe that the new Chrysler Pacifica Hybrid has the potential to be a real game-changer.
Heck, it might even just make minivans chic and cool again to be seen in, and don't laugh at me for saying that.
(Note: Transportation and accommodation for this event were provided by the automaker.  All opinions expressed however remain solely those of the author and no editorial oversight was required or requested.)